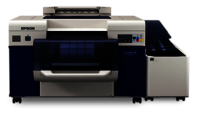 Dual Roll Photo Printer
Price And Quantity
330000.00 - 3000000.00 INR
Product Description
Lifelike Prints
Integrated ink-set accomplishes a wide shading array that surpasses that of silver halide, offering enduring prints that are striking and exact with magnificent dark thickness. Other than general polished paper, prints can likewise be created on matte paper, providing you more choices to print cards and different material.

Unrivaled Productivity
Rapid printing is accomplished through the perfect timing coordination between the superior Smaller print heads; utilizing different spouts and bleeding edge changeable Size Bead Innovation, and programming controlled rollers to guarantee that papers are unequivocally fed.

Keen Computerization
Utilize the Auto Select capacity to consequently choose the front or back roll in light of the width and kind of paper set in. A discretionary sorter unit naturally sorts over 10 tasks, providing you unwavering quality and genuine feelings of serenity to keep an eye on different issues.

Smart Programming
The packaged framework programming guides you through an upkeep procedure that demands no unique preparing to apply. The recently created "OrderController" is a discretionary exclusive programming with essential photograph re-touching capacities that can assist you effectively procedure high volumes of photographs.

Wide Applications
Print media, for example, all encompassing photographs, 12-inch width as well as different substantial prints are bolstered on SL-D3000. This ability can be reached out to incorporate extensive configuration and artistic work prints.

Financial plan and Naturally Well disposed
Concoction fluids and their transfer costs are disposed of using naturally amiable, high limit and intensely valued ink cartridges that enable you to accomplish more with your financial plan as well as for the earth. What's more, the print motor is incorporated with solid segments to help substantial volume business photograph application while limiting the requirement for occasional part substitution.

Specification of Dual Roll Photo Printer


Supported Media: Epson genuine media: Glossy, Luster, Matte
Nozzle Configuration: 736 nozzles 6 colours
Minimum Droplet Size: 1.5pl
Maximum Resolution: 720 x 720 dpi (Glossy / Luster / Matte Paper), 1440 x 1440 dpi (Glossy / Luster Paper)
Back Print Unit: Dot matrix, 9 pin: 40 characters x 2 lines Character size: 7 x 9 dot / 1 character: 1.2 x 3.1mm
Paper Width: 102mm (4"), 127mm (5"), 152mm (6"), 203mm (8"), 210mm (A4), 254mm (10"), 305mm (12")
Print Size: 3.5" x 5" 12" x 48"
Front Roll Specifications:

Max. Roll Length; 100m
Core Diameter; 76.2 ± 0.2mm (3")

Rear Roll Specifications:

Max. Roll Length; 100m
Core Diameter; 76.2 ± 0.2mm (3")

Media Handling:
Rear roll up to 305mm / 12" media width

Front roll up to 210mm / 8" media width
Trade Information
As Per Customer Reuirement With in a 15 days Per Day

15 Days